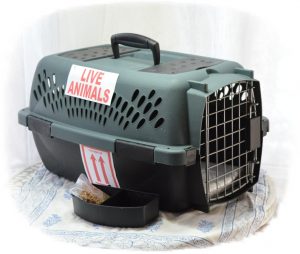 We ship most of our kittens by air using American airlines.  They have a temperature restriction of 20-85 degrees.  This makes shipping to Phoenix in the summer impossible. Your kitten will usually arrive in the evening and may be very late if it is summer to avoid the heat. The pickup location will be the baggage claim or cargo office. Plan to arrive 30 minutes after landing to allow time for unloading. Check for delays on the final flight so you don't show up too early. I will supply all the information about the flights after booking. You will need your ID and airway bill number for pickup.

The kittens are not traumatized by shipping so please don't be concerned. I have never had a kitten injured by the shipping process.

Upon arrival plan to open a can of food as they will be very hungry. If you have a long drive home bring a litter box in the car and put them in it. They will arrive in a hard sided crate with hard kibble cat food. Be sure to check their paperwork for their health record.

Before shipping the kitten will see the vet for a health certificate. This will expire in 10 days so they will need to be shipped in this time frame. As soon as I have their schedule and reservation I will give you this information. You can track the kitten online using the airway bill number at www.aacargo.com

The shipping fee is currently $650 as American Airlines is the only carrier currently shipping by air.  The airfare by itself is $463 for the smallest crate with American Airlines. The extra expenses included in my fee are: Health Certificate, gas for 3 hours driving to airport, crate and parking.

If your kitten encounters delays or canceled flights the personnel are trained in caring for animals and boarding them. They also have a vet on staff at all times. Cargo may call you with updates.

You are welcome to visit your kitten after six weeks of age by appointment. We are located 3.5 hours southeast of Des Moines 3.5 hours north of Saint Louis and 4 hours southwest of Chicago. The kittens go home between 10-12 weeks of age and you are welcome to pick them up at my home or for a fee we are willing to deliver or meet part way. The fee is $40 an hour each way for driving. Example Delivery fees are: $400 to Chicago, $300 to Des Moines and $300 to Saint Louis.